DrChrono is proud to announce its multiple award-winning streak in 2022 by Capterra, a free online service that helps organizations find the right software. DrChrono is recognized as an Established Player in Capterra Shortlists in multiple categories in 2022.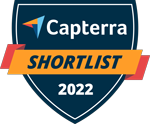 Capterra Shortlist is an independent assessment that evaluates user reviews and online search activity to generate a list of market leaders in the software space that offer the most popular solutions. (Have a look at the Capterra Shortlist methodology here.)
Have a look at our recognitions:
Established Player
Patient Management
Physical Therapy
Chiropractic
Medical Practice Management
Medical Scheduling
Mental Health
Medical Billing
Telemedicine
Electronic Medical Records
Our users have made it possible! With an overall rating of 4 out of 5, we received some stellar reviews on Capterra:
"Overall, Dr. Chrono has been a great value for the price. We are very pleased with the decision." Shannon S.
"I really like the ease of this EHR. I have worked with several others, and this ones the easiest!" Jami G.
"Great product and I highly recommend this software!" Brandon B.
Want to share what you like about our product? Add your review here.
DrChrono is revolutionizing the medical industry with its cloud-based, mobile-driven, fully compliant, and award-winning EHR solution. Founded in 2009, DrChrono enables medical providers to be the best they can be by providing a platform that streamlines administration and the delivery of care. DrChrono EHR, practice management, medical billing, and revenue cycle management solutions are the most flexible and intuitive on the market. They can be completely tailored to any medical practice and are open to third-party innovation and visionary partnerships via a robust and modern API. Serving thousands of physicians providing care to millions of patients, DrChrono is an official Apple Mobility Partner for healthcare, part of the US Government Precision Medicine Initiative, and the #1 mobile EHR as voted by Black Book. Visit drchrono.com.
About Capterra: Capterra is a software reviews and selection platform that connects businesses to the right technology. Compare software, read and leave reviews, and access objective insights that empower business growth.
---
Disclaimer:
The Capterra Shortlist badge is a service mark of Gartner, Inc., and/or its affiliates, and is used herein with permission. All rights reserved. The Capterra Shortlist report constitutes the subjective opinions of individual end-user reviews, ratings, and data applied against a documented methodology; they neither represent the views of, nor constitute an endorsement by, Capterra or its affiliates.
---