In December 2020, the CY 2021 Medicare Physician Fee Schedule Final Rule update arrived. With it came a bevy of changes including a higher performance threshold for performance year 2021, differently weighted MIPS performance categories and the introduction of the Advanced Alternative Payment Models (APM) Performance Pathway. In 2022, practitioners can likely expect to see initiatives like the MIPS Value Pathways and the sunsetting of the CMS Web Interface.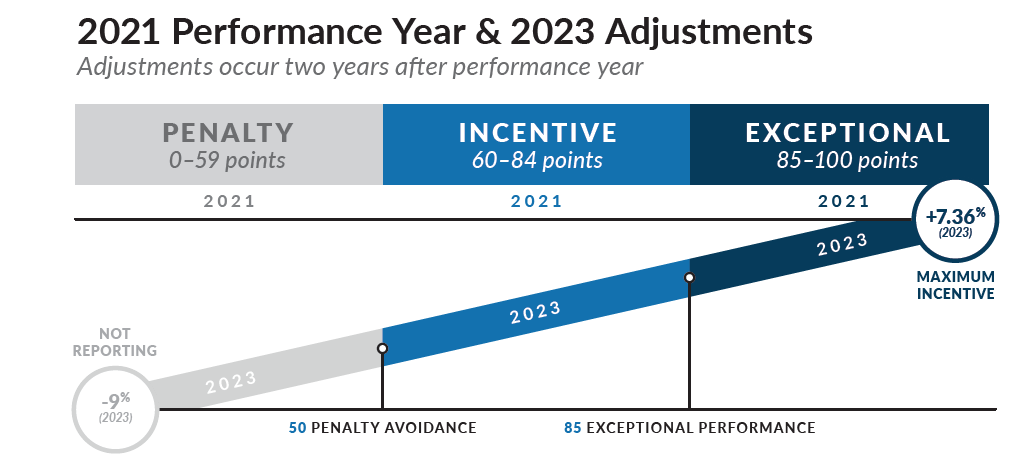 Review of MIPS and Quality Payment Program
The Merit-based Incentive Payment System (MIPS) falls under the Quality Payment Program which aims to transition Medicare Part B providers to a performance-based system. Consisting of four categories - Quality, Promoting Interoperability (PI), Cost, and Improvement Activities - a practice's performance across each of these groups this year will affect their payment adjustment two years from now. CMS determines whether your practice will receive a negative, neutral or positive score based on the performance threshold set for a given year in the Final Rule.
MIPS Performance Threshold and Category Weights
The MIPS performance threshold for 2021 shot up from 45 to 60 points, while the exceptional performance threshold remained at 85 points. For most medical practitioners, the Quality weight dropped to 40%, while Cost correspondingly rose to 20%. Standing at the same weights were Promoting Interoperability (PI) and Improvement Activities (IA) at 25% and 15% respectively. Physicians and other practitioners can be awarded up to five bonus points to their final MIPS score through the Complex Patient Bonus. Finally, Registries are not required to build their own benchmarks for Quality measures without a benchmark for 2021.
Now more than ever, the bar has been set at excellent performance across every performance category for a practice to score well in MIPS. In addition to the 2020 requirement for 50% of clinicians in a TIN participation for IA, the completion threshold for Quality has gradually increased up to its current point of 70% and bonus points for PI have been massively scaled back. Even smaller practices lack much room for error; large practice groups have nearly none. That's why it's essential for practices to put themselves in the best position possible to achieve their desired MIPS score by establishing focused initiatives centered on high performance across all categories.
MIPS APM Participants
MIPS APM participants have experienced some of the most notable changes from the 2021 Final Rule. CMS finalized the anticipated APM Performance Pathway (APP), revised the timeline for the sunsetting of the CMS Web Interface, and eliminated the MIPS APM scoring standard. The APP allows APM Entities to submit through collection types other than the Web Interface, including Registries and QCDRs. Though this new pathway is optional in 2021, it's certainly advisable to make the adjustment now as it will be mandated in 2022 due to the phasing out of the CMS Web Interface. Additionally, MIPS APM participants can choose their participation by submitting better-scoring performance data at either the NPI/TIN or TIN level, and the low-volume threshold is no longer being calculated at the APM entity level.
MIPS Value Pathways
MIPS Values Pathways (MVPs) will not be implemented until performance year 2022. However, the development of new MVPs has already begun. With the publication of the 2021 Final Rule, CMS released templates through which stakeholders can propose MVPs to CMS. Quality, IA and Cost measures must be unambiguously chosen and aligned based on a specific condition or specialty in the standardized MVP format. These MVPs must feature all Promoting Interoperability measures. CMS placed no limit on the number of measures or activities that may be included in an MVP. The Proposed and Final Rules will cover the approval or rejection status of the MVPs.
COVID-19 Impact and Extreme and Uncontrollable Circumstances Updates
The effects of the COVID-19 pandemic have been felt heavily across the healthcare industry. As a result of the pandemic, the 2021 Extreme and Uncontrollable Circumstances policy provides applications through the end of 2021 to reweight MIPS categories. Unfortunately, you cannot apply to override data for PY2021 if you already submitted it. Moreover, submitting an application does not guarantee approval.
Although this option is available, it is not advisable or necessary for most practices.
Moving Forward
MIPS reporting can be complicated, especially as standards continue to change. However, it's a necessary step towards the inevitable, and increasingly mandatory, shift to value-based care. With more changes on the horizon, integrating a reporting system into your EHR can prevent some major headaches. Systems like Healthmonix's MIPSpro are fine-tuned to help you optimize your MIPS or APM score and drive higher Medicare reimbursements. It's integrated directly with DrChrono to simplify the reporting process.
---