The pandemic brought about rapid changes to healthcare worldwide, perhaps none more disruptive and necessary than telehealth. Since patients were either unable to go to the doctor's office or did not feel safe doing so, these services became a necessity. In April of 2020, telehealth accounted for 65 percent of completed visits, and though that percentage regressed as the year went on, usage of telehealth still remained notably higher than before the pandemic.
Virtual Care Today: DrChrono & Beyond
Daily confirmed COVID-19 cases have plummeted from their peak between November 2020 to February 2021. As of April 26, 29 percent of the US population is fully vaccinated. In the United States, optimism about the pandemic petering out is beginning to require a little less caution.
Even as the country continues down the path to normalcy, elements of pandemic life appear to have carved out a more permanent role. Telehealth is one of those features that has maintained a place in many practitioners' healthcare repertoires. One might have expected telehealth usage to follow a similar curve to COVID cases, however, according to DrChrono data, video visit volume nearly doubled between February 2021 and April 2021. Visits conducted in April 2021 more than quadrupled the number of visits conducted in July 2020.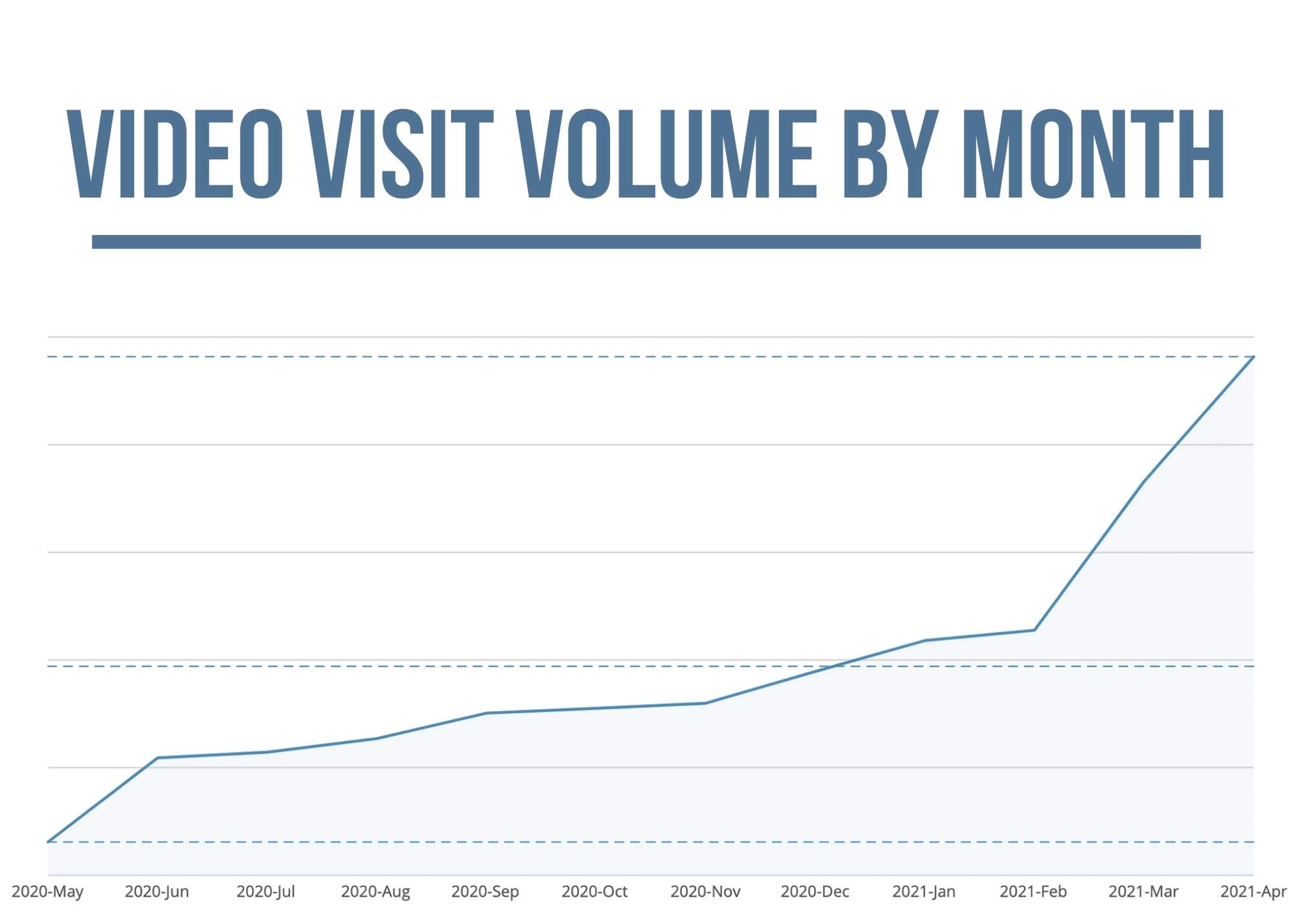 Some specialties certainly lend themselves better to telehealth features, and that's reflected in our data with psychiatry related specialties being among our most prolific telehealth users. That trend stretches out nationally as behavioral health practices were still conducting 68 percent of visits over telehealth in January of this year. Neurologists also took to telehealth, using those services for 40 percent of visits according to the Vizient report.
Behavioral health and neurology aren't the only specialties to continue embracing telehealth. Other heavy users on the DrChrono platform include physician assistants and nurse practitioners. Pain management practices are also robust users. The wide array of applications for telehealth, from video visits to remote monitoring and more, have established its clear staying power in healthcare.
Future Outlook for Telehealth
The continued use of telehealth is not just the doctor's orders; 78 percent of consumers want to continue virtual visits post-pandemic. Now that patients have experienced the convenience of these tools, they're eager to keep using them.
Despite the demand from patients and doctors, some obstacles remain. One of the most significant barriers will be determining the extent to which Medicare will reimburse telehealth after the pandemic. Before the pandemic, Medicare covered telehealth services for those in rural areas with little-to-no access to in-person services. Returning to such a model would be a major step back, not just for the telehealth industry, but for patients everywhere who've grown accustomed to the increased access to healthcare this technology provides.
Assuming Congress will be on board with extending the pandemic changes in some fashion, the question of how much these services should cost still remains. MedPAC (Medicare Payment Advisory Commission) mentioned in their recommendations to Congress that telehealth services should cost less than traditional in-person services because the overhead costs are presumably lower. However, that stance is not universal, as providers and organizations such as the American Hospital Association advocate for payment parity between virtual and in-person services.
To achieve better implementation of telehealth in the long term, the AHA also argues for the national prioritization of a medical licensure path that allows providers to deliver virtual care across state lines. Moreover, they believe that expanded access to broadband internet, especially in underserved areas, will be necessary to utilize telehealth to its fullest potential. That stance on broadband is supported by the current presidential administration's infrastructure plan as well.
Though roadblocks remain, they do not appear to be insurmountable. In the interim, telehealth's growth won't be quite so frenzied as it was in the pandemic environment. The groundwork has been laid, and it's only a matter of time until these services are a standard piece of the healthcare puzzle.
---