Patients have a lot of questions for their providers right now amid the confusion and angst of COVID-19. Most are under lockdown, either by their own choice in an effort to help flatten the curve or because their state and local governments have issued shelter-in-place orders. In addition to worrying about where they'll be able to get everyday staples and household goods when they need them, patients are concerned for their own health as well as the health of their loved ones. They're worried that even if they don't get coronavirus, they'll need medical help at some point and either won't have access to the help they need or it won't be safe to step foot in a clinic or healthcare setting.
The overwhelming message from the healthcare community to patients has been, "We're here for you and we're taking the right precautions to keep you safe." Some medical practices have temporarily closed their doors, others have shifted to telehealth visits or have developed other created protocols like conducting triage, check-in, and the waiting process from cars and parking lots. Everyone is getting creative to protect staff and providers, ensuring there will be healthy caregivers when patients need them and protecting patients from acquiring a virus they didn't have upon presenting to their provider.
As you work diligently to educate and inform your patients of your new operations, protocols, policies, and operating hours, know that your patient engagement tools can help you do this quickly and efficiently without putting your entire staff on the phones for the day. Whether it's education about when to seek medical attention for COVID-19 symptoms or proper hand washing, changing your appointment reminders to offer patients virtual visits, or guidance for patients as they prepare to arrive in your medical office, digital patient outreach tools are available to make it easy for you and your staff to help patients navigate these unprecedented times with good information and clear instructions.
Our partner, Relatient, has prepared some ideas and best practices to help you get the most from your patient engagement tools during this time. Feedback from Relatient customers recently earned them 2020 KLAS category leader in patient outreach, rating them 100% on questions like "keeps all promises" and "would buy again". They've been working hand-in-hand with medical practices over the last several weeks to help providers and staff disseminate helpful COVID-19 messaging to patients. To date, Relatient customers have sent over 2.9 million messages regarding coronavirus and continue to add by the hundreds of thousands daily. Here are some of their suggestions for using patient engagement tools to communicate with patients during the COVID-19 pandemic.
Use broadcast or demand messaging to send quick updates or alerts:
Send patients instructions for seeking medical attention if they believe they have COVID-19
Guide patients to testing sites
Send patients reliable coronavirus resources
Update patients on changes to your hours of operations, how to make appointments, and changes to the check-in process
![Image](/blog/images/relatientimage (1).png)
Use 2-way patient messaging like Relatient's Messenger Chat or Secure Messaging to:
Answer common patient questions
Field changes to appointments and schedules
Triage "phone" patients
Answer patient questions about test results and care plans
Provide post-discharge patient follow-up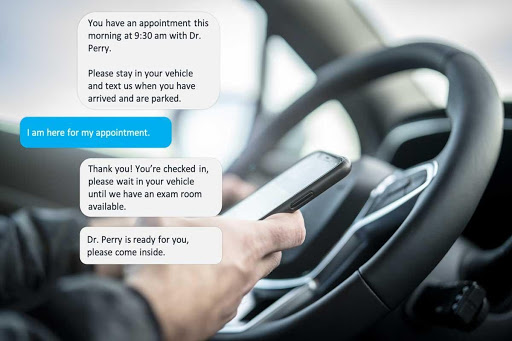 Utilize your appointment reminder messaging to:
Smooth the transition to telehealth
Add an option to change the upcoming appointment to a telehealth appointment
Send reminders for telehealth appointments that include a link or directions to access
Include a link to a COVID-19 screening tool/pre-registration forms
Educate patients on a new check-in process (ex: text from your car, we'll let you know when the doctor is ready to see you)
Direct patients to educational resources or CDC recommendations
Use pre-registration and self-scheduling tools to allow patients to self-identify as potential COVID-19 cases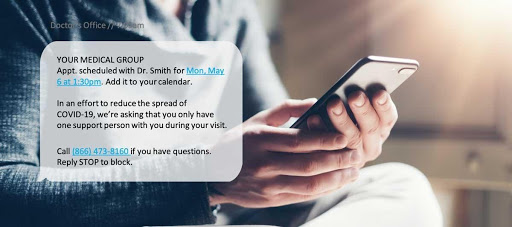 For more resources, sample messaging and details on how to implement some of the strategies in this article, check out Relatient's COVID-19 guide, How to Communicate with Patients During the COVID-19 Pandemic
Written by Julie Catron, Content Marketing Manager, Relatient
---